Ready to start your entrepreneurial journey? 
Dreaming of being your own boss, setting you own hours, and working toward your goals (instead of someone else's)?
Looking to future-proof your business against the next big emergency?
Take the plunge with our Premium workshops. Test It Before You Invest It, Start Up your Startup, and Rebuild are here to help your business soar.
Test It Before You Invest It
This is our free introductory course for entrepreneurs. You bring the business idea; we'll help you define and refine it. We'll take you through the business model canvas, customer discovery, and lots more.
Test It Before You Invest it is completely free and open to anyone. If your completely committed to entrepreneurship (or if your just curious), this course is a perfect place to start your journey.
We're excited to offer a 3-hour version of our popular Test It Before You invest It workshop. Normally, this is a workshop series that takes place over 3 weeks, but we've redesigned the coursework to fit into a 3-hour crash course!
You can't move forward unless you START moving!
Fortunately, our Start Up Your Startup workshop series is here to help. You'll learn how to build a solid foundation for your new business endeavor or how to fortify the foundation you've already laid. Through group lessons lead by business experts, you'll gain professional and community insights and feedback to help shape your idea into a successful startup.
Our experts will teach you from a place of experience and understanding. Who better to learn from than those who have real experience? You'll learn from their successes and failures so that you know which paths lead to the right places.
But Start Up Your Startup doesn't stop there. Once you've built your foundation, the course will take you even further. You'll learn the basics of growing and scaling your business over time.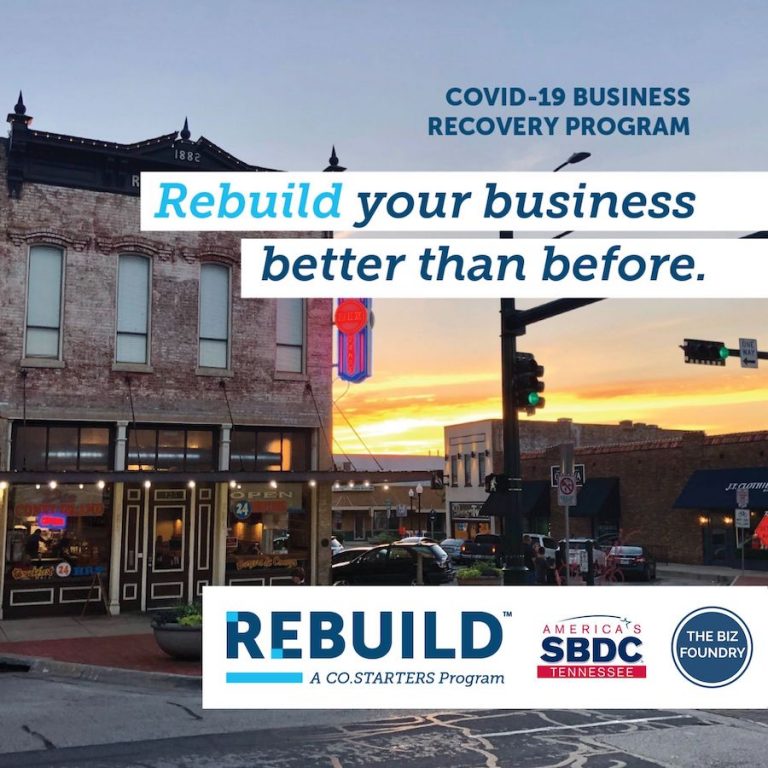 Rebuild: A Post- Covid Recovery Program
5-WEEK BUSINESS RECOVERY PROGRAM
Start the road to recovery for your business now. Join Rebuild.
This live-facilitated, 10-session program will help you refocus your business, stabilize it, and build toward long-term recovery. Working with a dedicated group of like minded peers, you'll cover topics relevant to the current COVID-19 challenges in a series of ten 2.5-hour sessions.
COURSE BREAKDOWN:
SESSION 1: Assessing Your Situation
SESSION 2: Understanding Your Customer
SESSION 3: Finding a New Solution
SESSION 4: Refocusing Your Marketing
SESSION 5: Exploring Quick to Market Approaches
SESSION 6: Learning About COVID-19 Laws
SESSION 7: Streamlining Costs
SESSION 8: Setting Recovery Sales Goals
SESSION 9: Planning for Recovery
SESSION 10: Celebration!
Course Cost: $300 BUT scholarships are available!
Course registration is closed. Email us to learn about upcoming sessions: ashley@thebizfoundry.org

Let's work together.
Schedule a tour, set up a meeting, or ask a question today.
Ready to get to work on your business or looking for a space to work from? You've come to the right place. Send us a message, and we'll point you in the right direction!